"Mummy. Today I started to think about what it means to have become a mother, for eight years and counting now, without you in my life. I miss you every single day, some days more than others. I just wish I could have asked you, "How did you do it, mummy? You must have been superhuman!"
Whenever I go through a particularly crazy day, I always wished that I could call you and rant away. It has been that long since before you got hit with dementia at such a relatively young age, that I was able to share about my day, my challenges, my frustrations at the world. I really do miss that very precious time with you, even if it is such a distant, even cloudy, memory now.
To be called Mummy today by my own kids, to be elevated to the same level as you were for my entire life when you were around, is such an honour and privilege. I am immensely grateful for being bestowed this gift of being a Mummy. Had I known that I would be journeying as a Mummy without your physical presence with me, I would have studied you endlessly and spent more time just gazing upon your beautiful countenance. I suppose that is the reason why Little A and I have this special bond as mother-daughter. Whenever my heart pines for you a bit more than it usually does, I would feel the need to hug and kiss my girl a whole lot more… Maybe, in every cuddle and every slobbery kiss, I draw strength, I recharge, I connect – I remember you."
***
Trial and error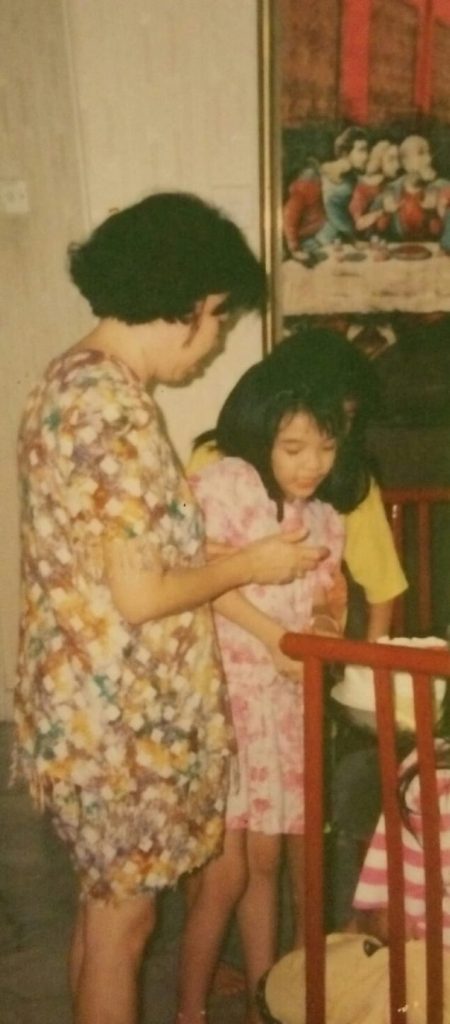 To become a mother without having my Mummy physically around till today, made me grow up overnight just like that. Initially, I felt all alone. I went through my confinement period alone, for both of my pregnancies, postpartum. I remember feeling so clueless attempting to research beforehand, and especially during the confinement period. At that time, hubby and I were relatively young, and not earning much since we were just at the beginning of our respective careers, so money was very tight. We didn't even consider having a confinement lady nor considered any confinement centres. Both my maternal grandmother and my mother, whom I was very close to, were no longer around for me to rely on. My mother-in-law at that time was still working full-time. Hubby played "confinement man" during his few days of paternity leave, but overall, it was mostly "trial and error". It was crazy, scary, shocking, amusing, painful, yet immensely satisfying, all rolled into one. I wished someone told me how painful breastfeeding would be. How you would worry the hairs on your head every second of the day, for this new little one. The days after that were a series of blur, but mostly, involved consuming copious amounts of caffeine for sheer survival, for the brutal life of juggling full-time work and full-on motherhood.
However, I was never truly alone. I realised that my mum left a legacy in me, injecting love and faith in me. It was she who brought me into this world, in spite of a dangerous pregnancy journey, I'm told. Yet, she raised me, best as she could, in spite of her ignorance of some things and her lack of physical vitality. Yet, she gave her all. And that is what has breathed new life in me today – giving me a sense of resolve in all that I do.
Knowing that someone, gave me her all, once upon a time, is enough to spark renewed hope for each new day. Therefore, my life deserves my all, in whatever ways and areas I can give.
The parenthood school
When we were growing up, school progressed in stages, with a standardised system. So it was not hard to feel like you are going through it all with others. But motherhood hits you like a life hurricane, without any warning even if you had the 'itinerary' all planned out as best as possible. If there's anything we need more of – is truckloads of fellow mama supporters who really "got your back", without judgement. People who will walk the long and quiet mile with you, when no one else would. People who would think of you, not just when they need something, but who really look out for your needs, when you may have lost your way or just needed that extra ounce of strength for that hour. And you realise, that parenthood, is SCHOOL, but with a whole lot of hard and quick falls, and with hardly any extra time to let the wound heal before a new one comes along.
Mothers today, perhaps have it more complicated – instead of just comparing with relatives, neighbours and friends, you now have the added pressure that comes from watching people display their "good life" on social media. We have an overload of "success" stories and some people just make it look so easy. But is it, really?
Take a step back and think about WHO you are, besides being a mother. You are a storyteller, you are the doctor-on-call, you are the teacher, you are an artist, you are a craftswoman, you are the entertainer, and best of all, you are YOU. Human, with deep intense emotions and an endless well of love.
Just as you are, right here, right now – you are that very gift to your beautiful child(ren). If only more of us learnt to come into our own more confidently, then could we also learn to love our kids more freely, more openly and more wholly.
If you're reading this and you're not a mom yet or preparing to be mum, know that you carry a part of your mother with you, sometimes the good, the bad, but hopefully, the best parts, mostly. Let that give you the wings you need to really soar above the storms and valleys of life. Let your life continue to be that gift to the world that your mother gave you.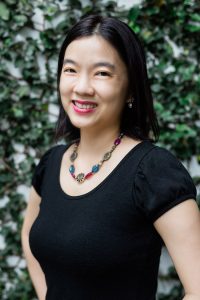 Serena is a trained clinical psychologist with a decade of service in providing assessment and intervention for individuals, couples and families with various challenges such as depression disorders, anxiety disorders, stress, time management, motivation, relationship and marital issues, postpartum difficulties, parenting struggles, chronic illness, grief and life transitions.
She has a passion for preventive education so that more people would have access to tools that help them have a meaningful life, in every season, wherever they are at. She believes in strengthening relationships, marriages and families to help people thrive in life and it starts by having supportive, nonjudgmental conversations with one another about doing real life.
Together with her husband, she is also a busy parent of two school-aged children. When she can catch moments in between, she loves reading, and savouring all things coffee and chocolate! Serena also joined us as a contributing writer so you'll be hearing from her more often!