Past Events
We had a candid conversation with Relationship and Psychosexual therapist, Gulya Diyarova and Relationship Counsellor, Azah Yazmin unpacking all sorts of questions relating to sexual intimacy. We discussed myths about sex and relearnt the language of love and sex. Click to listen in to the conversation!
Watch YouTube Video
The Oasis ladies had a blast in June 2022 as we danced, exercised, and got to know each other over the beat of Bollywood music! Bollywood music combines classical Indian dance, salsa, and belly-dance with modern western forms such as funk and hip hop. No experience is necessary! It was a time where we indulged in a little self-care.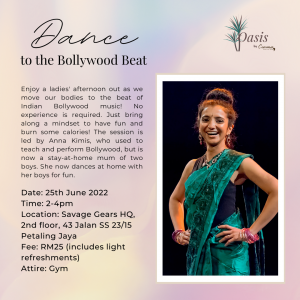 Marriage, parenting, career… no one ever said it'd be easy. Life can get messy but can you find beauty in the mess? The Oasis women gathered together to create art, meet like-minded people and talk about marriage. Here's what happened that day.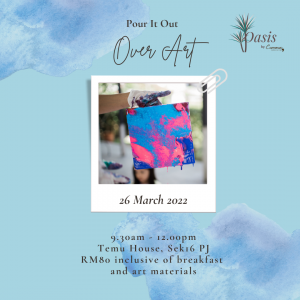 'Wife for Life: Rediscover Your Identity' is a live virtual workshop that invites married women to rediscover themselves and their relationships in an empowering, new light, by unlocking the mysteries of modern marriage.
Getting used to a shared life is a phase that all married couples are familiar with. However we rarely talk about what really happens in the process for us women, that is, becoming a wife.
While culture and society may have different ideas, have you ever asked yourself, what does this role really mean to you? How does this new facet of your identity empower you in a lifelong partnership?
Maybe you're at a stage where you're struggling to balance self care while prioritizing your marriage and family. Maybe marriage isn't turning out the way you hoped, leading to feelings of disappointment, disconnection, and discouragement.
Read more about the workshop
here
.
The Marriage Pitstop: The 5 Love Languages, is the first in a series of our workshops specially designed for couples. It provides tools they need to navigate through marriage with discussions and hands-on activities using The 5 Love Languages by Dr. Gary Chapman. Couples who attended had the chance to refuel their love tanks and bring their marriage to a whole new level. Special thanks to our venue sponsor: Q Event Space, Damansara. Watch the highlights below:
More photos on Facebook here